Event date
| | | | |
| --- | --- | --- | --- |
| Monday 3rd December | | 0% | [ 0 ] |
| Tuesday 4th December | | 66% | [ 4 ] |
| Wednesday 5th December | | 16% | [ 1 ] |
| Friday 7th December | | 0% | [ 0 ] |
| Saturday 8th December | | 16% | [ 1 ] |
| Sunday 9th December | | 0% | [ 0 ] |
Total Votes : 6
Congratulations! This event is now approved!
I'd be up for this, but I wouldn't be able to join if its before Friday
This sounds like a great tournament. If I can make it I will join.
This is a great idea! making a new troll right now!
Carrie11 wrote:
I wouls love to watch and if you need a commentator I could do that too. Tbh you would prob have me yelling over everyone on Discord regardless hahaha
That's great, thanks for offering. Will you be making a new character for this or bringing along your tauren?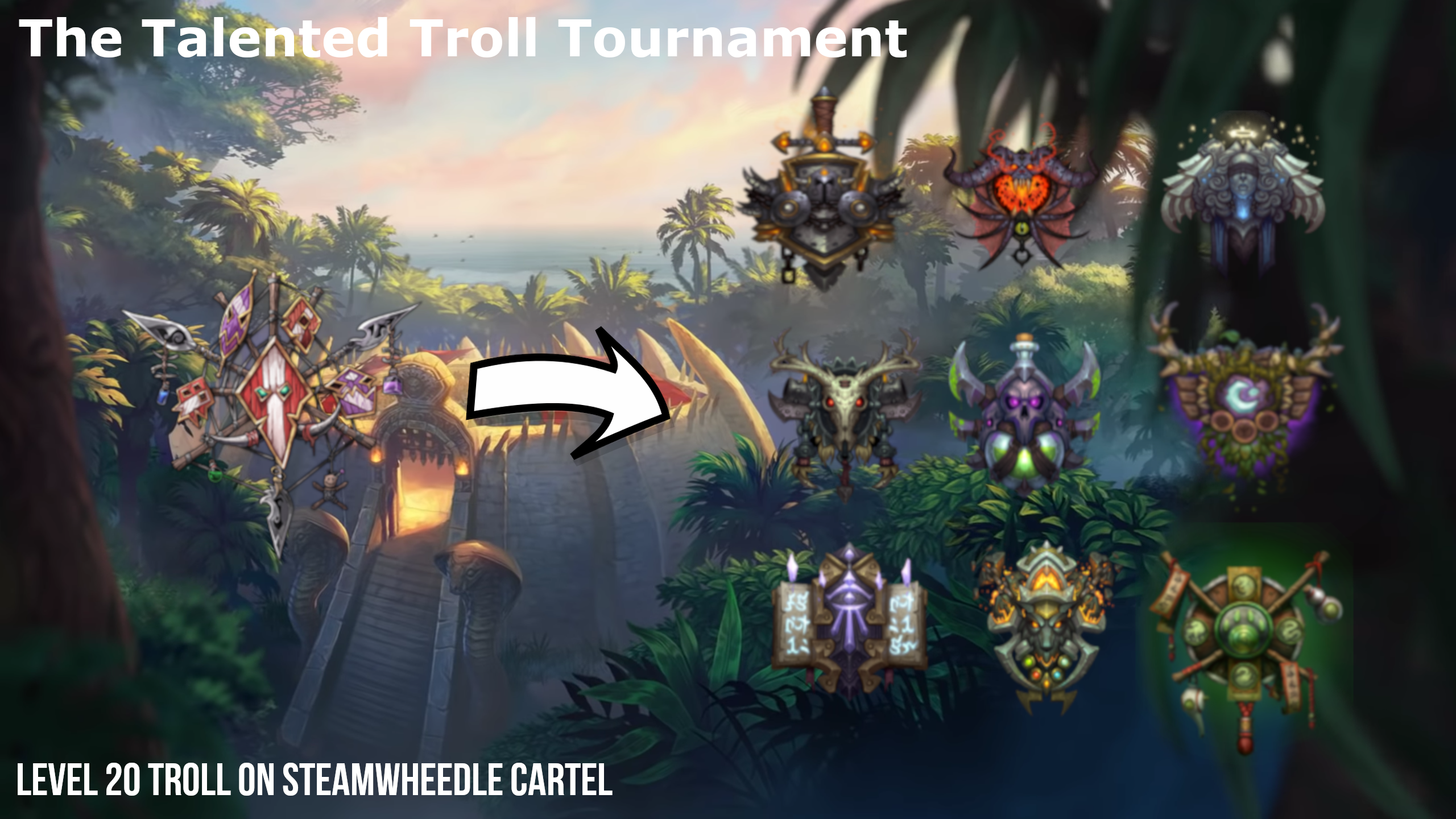 Event name: The Talented Troll Tournament
Event manager: Phillip
Minimum amount of players: 5+
Date and time: Poll to confirm data (8pm UK time, 9pm server time).
Resources: Fame, glory and gold for prizes, TBA.
Event description:
Have you got what it takes to become the champion of The Talented Troll Tournament?!
This event will take place on the Steamwheedle Cartel server and is open to subbed and non-subbed players in the guild (you can play without gametime up to level 20). To coincide with the release of the new Hearthstone expansion,Rastakhan's Rumble, the Seven Serpents are hosting their own Talented Troll Tournament!

The rules are pretty simple:
Create your troll - your class choices are Hunter, Mage, Priest, Rogue, Shaman, Warrior, Druid, Warlock, Monk
Get to level 20 by any means necessary.
Go to the Hall of the Brave, Valley of Honor in Orgrimmar and talk to Slahtz to lock your level.
Head to the Gurubashi Arena in the northern jungles of the Cape of Stranglethorn on the day of the arena tournament.
The tournament itself will take place in the form of a round robin style, with each troll fighting each other at least once. The victor of each fight will gain a point and the troll with the most points will be crowned champion of the Talent Troll Tournament!
Anyone who is wishing to watch and not partake in the event is welcome to come along, perhaps we could have a tournament commentator if someone wants to take that role.